Welcome to the ODYSSEE MURE project
This project gathers representatives from the 28 EU Member States plus Norway. It aims at monitoring energy efficiency trends and measures in Europe, using on two complementary internet databases:
ODYSSEE
on energy efficiency / CO
2
indicators, including detailed data on energy consumption, activities and related CO
2
-emissions (around 1000 data series by country) and
MURE
on energy efficiency policy measures, including their impact (around 2000 measures).

Latest News
09 September 2015ODYSSEE-MURE workshop for local and regional stakeholders
Lessons on energy efficiency monitoring in buildings and transport - from national to local level.
Read the news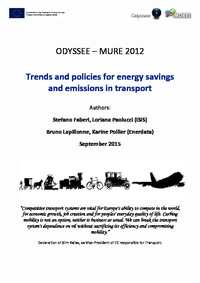 Latest publication
Energy Efficiency Trends and Policies in Transport
This brochure proposes an evaluation of energy efficiency progress achieved by mode in transport since 2000, with a focus on cars for which significant progress has been achieved. It shows the great impact of the economic crisis on the energy trends.